Your U-M Legal Services Plan enrollment includes credit monitoring and identity protection services
Records indicate that you are enrolled in the University of Michigan's Legal Services Plan, which is administered through Hyatt Legal Services. You are receiving this email because Hyatt's records show that you are not registered for the credit monitoring and identity protection services that are included with your enrollment.
The Hyatt Legal Plan, in partnership with CyberScout, offers identity protection services which include credit and fraud monitoring. This service provides single bureau credit monitoring with annual credit report and score, and cyber monitoring, which continually monitors the internet for suspicious activity involving your name and personal information. Credit and cyber monitoring is a complimentary benefit available to you only -- your dependents are not eligible for this feature.
Look for an email from CyberScout to activate your account
To receive the credit monitoring and identity protection services, you will need to activate your enrollment with CyberScout and authenticate your identity. You will receive an email on April 19, 2017 from "customer.support@e.cyberscout.com" with the subject line, "Action Required on your Hyatt Legal Plans' CyberScout Activation." The email will provide activation instructions and your unique registration code. You may need to check your email Spam or Junk folder to locate the email.
The email that Hyatt Legal Plans and CyberScout will send to you is shown below for your reference.
If you have any questions about the credit monitoring or identity protection services or the registration process, please call CyberScout at 1-800-406-7194.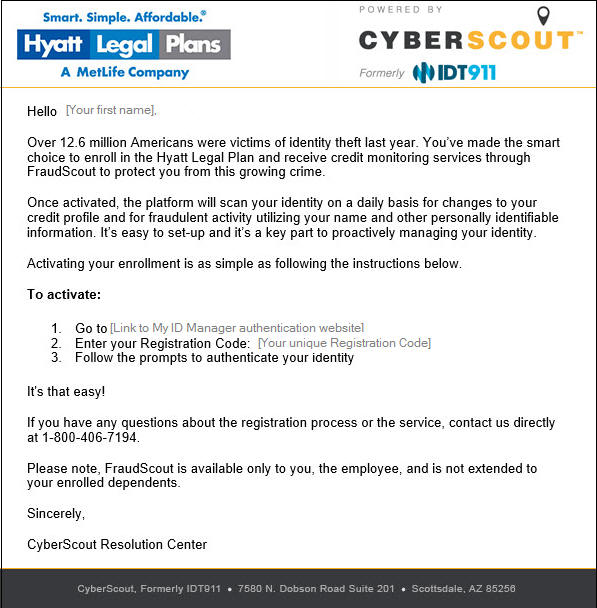 Image for illustration only.